By Katherine Parker
The weekend before New Years' I found myself tasting Champagnes in a Paris apartment with a friendly group of wine aficionados. The tasting was put together by Camilla Macfarlane, a California expat living in Paris, with a background in the wine industry. Camilla put together a wonderful lineup of Champagnes in the holiday spirit, with generous hors d'oeuvres by Kent Keatinge to highlight the wines.
Six Champagnes – all Brut style from esteemed houses – were on the menu. Brut is a medium-dry Champagne and the most popular style sold today. You may find an Extra Dry (slightly more sugar) or an Extra Brut (slightly less) but most of what you see on the market is Brut.  Four of the six were from the region of Reims in France.
The first two were contrasting varietals: A Laurent Perrier Cuvée Rosé Brut NV made from 100% Pinot Noir grapes, and a Philipponnat Brut Grand Blanc made from 100% Chardonnay grapes. I found the Laurent Perrier the most aromatic of all wines poured, with a distinct nose of fresh wild strawberry-raspberry and an appetizing peach color.  Little cucumber and cream cheese sandwiches went well with these small bubbles. The wine comes in a plump dark bottle – the green glass indicating the "black" pinot grapes. The curvy shape and pink collar clearly brand this as a feminine wine.
Also, the Laurent Perrier is a Cuvée – a blend of grapes from 10 different villages, all in the Reims region known for Champagne. The wine is
aged for at least 4 years and is 12% alcohol – another thing I enjoy about Champagne.
The Philipponnat comes in a white bottle to indicate the all-white Chardonnay grapes. A small pastry appetizer topped with tiny shrimps was perfect with this creamy, smooth Blanc de Blanc-style wine.
Next Camilla brought out 2 magnums, each a Brut NV blend of all 3 grapes used in classic Champagne: Veuve Clicquot with at least 50% Pinot Noir, 28% Chardonnay, and 15% Pinot Meunier grapes, and Taittinger with 40% Chardonnay and 60% Pinot Noir and Pinot Meunier. The Taittinger captivated me with crispness and structure based on balanced acidity.  That this
wine is a blend of grapes from 35 different "crus" or villages, attests to the winemaking skill of the family-owned Taittinger house.
Drinking from a magnum offers a higher quality wine, because there is less oxygen in the bottle relative to the surface area of the wine. This is also said to favor the creation of small bubbles, which enhance the tactile experience of drinking Champagne.
About this time, we moved on to an appetizer of fish breaded into lollipops, with an apricot-mustard sauce. Whether it was the magnums or the fabulous food and conversation that made the evening so agreeable is hard to say. I think by this time we were all having a great time.
The near-final Champagne was a Ruinart Brut from the same blend of grapes as the Taittinger but made to be even more crisp, acidic and refreshing. The Ruinart undergoes full malolactic fermentation, which is not noted for the Taittinger. Our group thought this might account for the difference between the two wines.
The Grand Finalé was a vintage Dom Perignon 2003 Champagne. I enjoyed the minerality and structure of this taste. The bubbles were the most perfect of the evening – a fountain of tiny bubbles pulsing up from the center of the flute. Paired with beef chili on mini wheat tortilla squares – Mexican with Champagne goes great!
This event was a great opportunity to compare and contrast. I favored the tastes and textures of Ruinart and Taittinger.  At the end of the day between the two, it would probably be decided on price.  If price were no object, I would go with the Ruinart.
If you are living in Paris, or even if you are visiting like I was, check Camilla's Paris Wine Meetup Group for tasting dates.
Related Articles:
Tasting Notes: Paul Bara Champagne Grand Cru Brut Grand Rosé
Simple Hedonisms Sparkling Wine Highlights – Part 1: Imports
The Members of The Santa Rosa Wine Trail  are hosting a special holiday tasting weekend on Saturday, December 8 and Sunday, December 9 from 11 am to 4 pm each day. The wine trail is a collecti
on of urban wineries and tasting rooms, restaurants, and a hotel, all located within a a close radius, and a few minutes of downtown Santa Rosa.
Guests will enjoy food trucks, live music, and exclusive tours and
Tickets Are Only $25 AND Include $10 Wine Purchase Credit
The ticket price of $25.00 presale or $35.00 at the door includes tastings at ten wineries and tasting rooms, a commemorative wine glass, and $10.00 in "wine bucks" which may be used towards the purchase of wine at any of the participating wineries.
For designated drivers, a $5.00 ticket includes special activities and non-alcoholic beverages.
Tickets are available at srwt.eventbrite.com, at participating wineries, and at the door at any of the participating wineries during the event.
Participating wineries are: Carol Shelton, D'Argenzio, Inspiration, Krutz Family Cellars, Old World, Paradise Ridge, Sheldon, Siduri/Novy*, Two Shepherds, and the collective at Vinoteca.
The Fountaingrove Inn is offering a limited number of Deluxe King Rooms for just $89/night to Eat, Sip and Be Merry visitors who would like stay in town Friday, Saturday and/or Sunday nights.  A link to the special purchase rate is available at srwt.eventbrite.com. Other lodging options may be found at visitsantarosa.com.
To win is simple, simply tell us in comments below:
If you were to receive wine as a Christmas gift from one of the wineries pouring – which would be your favorite pick?
A winner will be drawn at Random next Wed evening Dec 5th.  Enter now!
About the Santa Rosa Wine Trail
The Santa Rosa Wine Trail is a collection of eleven wineries, three restaurants, and one hotel in northern Santa Rosa in Sonoma County, California. The Santa Rosa Wine Trail card (print yours here or pick one up at one of our member wineries) is your passport to great days and nights of some of the best wine and food Sonoma County has to offer, all in close proximity.
Members: Carol Shelton Wines, D'Argenzio Winery, Inspiration Vineyards, Krutz Family Cellars, Old World Winery, Paradise Ridge, Robert Rue Vineyard, Sheldon Wines, Siduri/Novy, Two Shepherds, Vinoteca, John Ash, Stark's Steak & Seafood, Willi's Wine Bar and Vintners Inn.
Labor Day weekend in Sonoma County is extra special to me.  Its' the weekend every year that hosts my beloved adopted county's premier, county wide wine event: Sonoma Wine

Country Weekend,

the star of which, for me personally, is the Saturday afternoon Taste of Sonoma at MacMurray Ranch. Its also my last hurrah before harvest for my own wine project begins.
Why is Taste of Sonoma So Special?
It's the only event of the year where wineries from our many widespread AVA's (regions) gather together into one place. People email me regularly saying "I am coming to 'Sonoma' where should I go?" Often not realizing we have 13 AVAs, and the county is very spread out. And the regions can be VERY different. Russian River Valley and Dry Creek Valley are only miles apart, but one is very warm, and one is very cool, and produces very different wines.
Sonoma County has lots of great  wine 'bracelet' events, where you go from winery to winery, but fewer 'walk around' tastings where you can move from table to table covering ground more quickly, and these tend to be focused on a single variety or narrow focus.
There is no other event where all our regions are combined together in one event on this scale. As if that isn't enough, each regional tent is accompanied by some cheap auto insurance of the many rock star chefs and great epicureans of the county.  It's an event not to be missed. I attended it in a boot cast once even and hopped around at lightning speed!
My only 'complaint' every year is that 4 hours is just too little time, I could spend 2 whole days just tasting food and wine from so many amazing artisans. The afternoon window is a gift and experience I'll happily accept.
The other amazing thing about Taste of Sonoma is the leisurely pace. It's true several thousand people attend, but the event is so well organized, and spread into so many venues and things to do, it never feels busy, rushed, or crowded.
This event sells OUT! You have been warned if you procrastinate. People travel from all over the country ever year to attend this event.
In addition to tickets there are additional items you can add to your event, including Sommelier Tours and more.  Many are already sold out!
New in 2013:  Sonoma Starlight Supper Club
On Friday, August 31, the first ever Sonoma Starlight Supper Club will be held at Francis Ford Coppola Winery. Set against the backdrop of the shimmering night sky of the Alexander Valley, the Sonoma Starlight Supper Club begins poolside at the Francis Ford Coppola Winery, featuring an array of wines from twenty Sonoma County wineries paired with local cuisine served al fresco and prepared by Jeff Mall, Carlo Cavallo and Josh Silvers, the Sonoma County trio of chefs that comprise Culinary Cuvee.
The evening will culminate with dessert, live music, and dancing to the ever-popular Bay Area band Pride & Joy.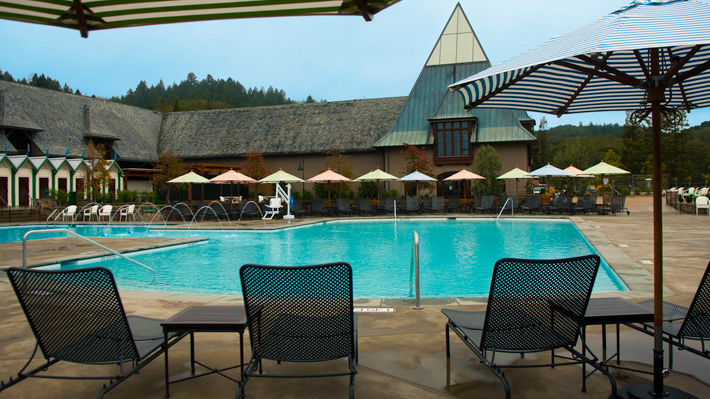 Also available is an exclusive Patron Ticket which will entitle guests to a Sparkling Wine Reception, a luxurious, sit-down multi-course meal prepared by Mark Stark – Chef/Owner of Stark Reality Restaurants, and access to a cigar bar and private lounge.
But Wait, There's More!
I am not doing the Wine Country Weekend experience justice focusing just on the Taste of Sonoma. Locals and visitors alike can fill their weekend with lunches, Friday and Saturday night dinner parties, and BBQs. I attended a wine maker dinner last year and it was an incredible evening.
Last but not least, there is the Sonoma Valley Harvest Wine Auction – a grand affair at Chateau St Jean this year. I was the guest of a sponsoring winery 2 years ago, its an amazing, fun, experience. Also, money raised at this, goes to support Sonoma charities. In 2011, Sonoma Wine Country Weekend gave $395,385 to local charities in Sonoma County.
See you at MacMurray Ranch!
2012 Sonoma Wine Country Weekend Schedule At-A-Glance
Friday, August 31
12:30 p.m. – Winemaker Lunch Series, sponsored by TricorBraun WinePak
7:00 p.m. – Sonoma Starlight Supper Club at Francis Ford Coppola Winery sponsored by Kaiser Permanente
6:00 p.m. – Winemaker Dinner Parties, sponsored by TricorBraun WinePak
Saturday, September 1
11 a.m. – 4 p.m. – Taste of Sonoma at MacMurray Ranch®
6:00 p.m. – Winemaker Dinner Parties, sponsored by TricorBraun WinePak
6:00 p.m. – Chairman's Dinner Party
Sunday, September 2
12:30 p.m. – Winery Barbecues at Wineries throughout Sonoma County
1 p.m. – 7 p.m. Sonoma Valley Harvest Wine Auction at Chateau St.
Jean, sponsored by TricorBraun WinePak
Related Articles
Spotlight on Sonoma – Sonoma Wine Country Weekend Sept 3-5: Visa Signature Event Highlights
The 17th Annual Taste of Sonoma at MacMurray Ranch
Spend The Day in Spain Without Leaving The Bay Area
Every year
Gloria Ferrer, one of my favorite sparkling houses, transforms their lovely winery into a Spanish Catalan Festival.
This July 21 – July 22, 2012 from 11:00am – 4:00pm, they will transport you to Spain for a day of Spanish food, wine and entertainment
with lively classical guitar, passionate flamenco dancing, a festive grape stomp and traditional folklore surprises.
Stroll and enjoy savory tapas, paella demonstrations and wine seminars as you sip California sparkling and estate wines.
The day offers wine seminars, cocktail demonstration, grape stomping competition, cooking demonstrations, live music, singing, dancing and more. Check out the full schedule here.
Tickets are only $50 ($42 for wine club, and include a souvenir logo flute, 2 drink tickets, 4 food tickets, passport to sample Spanish wines, music and dancing entertainment, and Grape Stomping entertainment! Purchase here.
Check out this fun video of the event!:
Win A Pair Of Tickets – Ends Thursday!
Simple Hedonisms readers are lucky enough to again be offered to win a pair of tickets to this wonderful event.
To Enter To Win is Fun and Easy.
Simply go to this list of fun sparkling wine food pairings and tell us in comments (here on the blog) which one sounds most yummy paired with bubbles to you.
Make sure we get your first and last name for ticket will call.
Ends this Thursday evening, don't delay! To enter you Must be 21 years
or older to enter, and that by entering you verify you are over 21. Winners will be chosen from correct answers by random drawing.
by Katherine Parker
I attended PINK OUT! SF this week, an event eagerly anticipated and long-awaited by me. PINK OUT! is an annual wine tasting and food-pairing celebration focused entire
ly on Rosé wines. It's hosted by Chef Robert Lam at the San Francisco waterfront location of his Butterfly Restaurant. PINK OUT! SF, in its 8th year, is organized by the Rosé Avengers and Producers (RAP).
Rosé came onto my radar when I moved to Sonoma in 2009 and started classes in the wine studies program at Santa Rosa JC. Instructors like Bob Frazer, Ray Johnson and others opened my palate to a broad spectrum of wine varietals and winemaking styles I had never considered drinking. Rosé was one of those.
Living on the border of Carneros, Sonoma Valley and Sonoma Coast, I was soon smitten. My piece "Romance with Rosé," became one of Simple Hedonisms' most popular. When I found out there would be a tasting of 30+ Rosé wines in one place, I was excited. The wines, the Butterfly waterfront venue and food, and the sassy spirit of PINK OUT! SF lived up to my expectations and more.
The Wines
Rosé is so versatile. Think of the many ways you can use and enjoy it: As a low(er) alcohol wine for a business or vacation lunch (Envolve or Korbin Kameron); as a mouth-cleansing refresher with spicy Asian or BBQ food (Lasseter Family); as an appetite-stimulant with a plate of fabulous cheeses (Dunstan or Kokomo); as a celebration wine, when you want a Pink Champagne with (Gloria Ferrer) or without the bubbles (Chateau D'Esclans) as an aperitif for a festive occasion. Also, a very good Rosé can be had for a great price. Of 40 or so wines, most are priced under $25 with several good value Rosés at $14-18. These were just a few faces of Rosé at PINK OUT! SF.
I found Rosés of all origins, varietals and colors at PINK OUT! SF: France, Spain and Australia; Sonoma and Napa; Yolo and Lake county grapes are represented. There are Rosés made from Grenache, Syrah, Pinot Noir, Tempranillo, Merlot, Cabernet Sauvignon, Petite Syrah, Sangiovese, Vermentino, Zinfandel … to name a few. And at least one (MidSummer Cellars) co-fermented with Viognier (Like!).
The Colors
Straw. Pale Gold. Silver. Platinum. Peach. Salmon. Pink-Pink.Foamy Pink. Licorice Red Candy. Clear Ruby. Hot-Pink! Deep-Pink. Take your pick of pink.
As a whole I found the wines well made. I had a few favorites, which are influenced by my personal preferences (running to dry, low-alcohol Rosé, particularly of Pinot Noir, a varietal I favor).
Top Picks
Kokomo Grenache Rosé 2011. Grapes from Pauline's Vineyard in Dry Creek Valley, Sonoma CA. This wine is elegant in every dimension: Crystal clear pale platinum in color, dry berry bramble nose, round and mouth-filling on the palette. Drinks well by itself and would pair excellently with an aged Spanish Manchego cheese, shellfish or naturally seasoned grilled pork. It was the perfect accompaniment to Chef Lam's spicy paella. 13% Alcohol, $22.
Dunstan Rosé, 2011. Signature salmon color,
light fragrant nose, dry and cleansing on the palette. Balanced and satisfying. From Sonoma's famed Durrell Vineyard Pinot Noir grapes.
VML 2011, Rosé of Pinot Noir. Winemaker Virginia (Ginny) Lambrix (Truett-Hurst and VML labels) made this lovely Rosé of Pinot, which retails for $19.
Many other wines here were also worthy of mention:
Chateau D'Esclans, Whispering Angel Rosé 2011, and Rosé 2011 from Cotes de Provence, France. Whispering Angel seems to create a category all it's own. Made from a blend of 7 varietals – predominantly Grenache and Rolle – it is silvery pink in color, soft and round, and so light it seems to evaporate pleasantly in the mouth. Almost like champagne without the bubbles. 14% alcohol, $19. I liked the Rosé 2011 for its direct and structured approach – Grenache and Rolle with 20% oak. 14% alcohol, $35.
Gloria Ferrer was memorable for sparklers. They I tasted a couple of interesting and well-priced Spanish pink wines, Segura Viudas NV Brut Rosé ($8) and Freixenet NV Rosado Brut ($13). These were great paired with the oyster appetizers.
DEFINE Wines 2011 Syrah/Grenache Rosé. A new entrant with a finely-tuned, bold and fruity 13.5% alcohol Rosé. $38.
Carneros Wine Co., 2011 Fleur de California Rosé of Pinot Noir. Made from grapes from Carneros and Suisun Valley, this is a straightforward refreshing Rosé. Perfect for lunch at 12.5% alcohol and $14 retail.
Chef Lam put together a menu of spicy paella, grilled-cheese burgers and salad that paired so well with the Rosé tasting it was a hard act to follow. Then it was followed by platters of cheeses with cornbread triangles that made me realize how much the cheese and the Rosé wanted to be together. The waterfront location is ideal with its floor to ceiling windows and open kitchen. I will be back soon to discover the menu and waterfront vistas.
The Bling
At the same time my interest in Rosé developed, Rosé winemaking styles have been rapidly evolving from a "what shall we do with the leftovers?" into an art and craft of Rosé. This event expresses the accessibility, diversity and enthusiasm of today's Rosé. It's on my calendar for next year on the second Tuesday of May. That should give me enough time to shop for something pink and sassy to wear in 2013.
Related Articles
A Call For Rosé – May Panel Review (Drink Pink!)
Barrel Tasting – an event in North Sonoma rich in history. In fact this is the 34th anniversary.
I look forward with great anticipation to the six days of Barrel Tasting
, across two weekends, as do many of the 20,000+ attendees, many of whom fly in from all over the country to taste and stock up on wine, both bottled and futures.
At the end of this article is a chance to win a pair of tickets – 4 winners – so read on!
Barrel Tasting Is For Serious Wine Lovers
I have written numerous articles about Barrel Tasting over the last 3 years, and will admit I am a staunch advocate.
It's an event that can garner complaints from some locals, jaded hospitality staff, and the occasional cheap Media sensationalism title to get a reader, but the reality is it's a serious wine tasting & buying event for many, not a party.
The few stories that are bound to happen when 20,000 people go wine tasting, shouldn't be overshadowed by the people who drive & fly in, from all corners of the US to taste & buy wine. Lets focus on those.
Toss Away Your Stereotypes & Get Some Perspective
Last year, I wrote two articles with dozens of people posting their positive comments on this event, and many who wrote to me as well. Generally, other than inter-industry chatter, consumers are quiet on blogs, but in this case over 40 came out to say something.
Everyone has a bad story about this event, but sadly what's not shared enough are the many great ones, which last years comments highlighted for me, including one reader who wrote me, asking I not stereotype " ALL buses as bad." She was part of a group that every year rents a bus and drives several hours North, and everyone on the bus are serious tasters, all of whom leave with cases of wine. I stood corrected, and perhaps lost a regular reader.
These letters and comments made me realize just how many people really enjoy this event, with comments like:
"I LOVE Barrel Tasting, it's a chance to get together with friends, who have varied experience with wine"
"This was our third year barrel tasting and we pretty much have it down to a science with strategic routes for Friday and Saturday, while Sunday is more relaxed meandering around downtown Healdsburg."
"I had an excellent experience during weekend one of Barrel Tasting. The future wines were fun to try and then comparing them to a finished product was an experience that led to the purchase of so many cases of wine that my hybrid was doing a wheelie on the drive home to Berkeley!"
"Barrel tasting has become an annual event for my friends and I. In fact, we collectively have several wine club memberships as a result of Wine Road events."
"I haven't missed Barrel Tasting in years. I started going when I was a student at SSU. I got so hooked on the event that I decided to invite my cousins and make a weekend out of it. We use it as a bonding weekend to try fabulous new wines and taste old favorites. I love Barrel Tasting because it brings wine lovers together for one reason. I always come away with new stories, great memories, and a great new wine collection. I never leave a winery empty-handed and often come home with cases. I have also purchased futures and especially love going back when they are ready to try my favorites again!"
Just a small selection of the 40+ comments received.
Stop The Whining About Wine-ing
I love the wine business and wineries, but some it seems are never happy. "Its been dead for weeks." "This event had no traffic." "Oh my GOD, There were TOO MANY people."
So which is it? It's interesting for me to observe, often first hand, wineries that make a huge success, year over year, of the Wine Road's three events, including this one, and those that decline every year, and bitch & moan in the process.
Having worked closely with some, (and been on the other side of the barrel) its all about attitude, preparation, and outlook. Is every person who comes into your tasting room an opportunity to join your wine club, or just some pain in the ass who drank too much that is in your way until 5 pm comes? You decide. I can tell you those who view it the former, always lead in sales results.
I have written repeatedly about the importance of the tasting room experience and its impact on wine sales. It's as important (if not more important) than the quality of the wine. The winery with a great hospitality experience and mediocre wine will outsell the winery with the reverse, every time.
Locals, yes Healdsburg can be a bit crazy Saturday afternoon I know. Our hotels, shops, and restaurants are also all full. If you can't
appreciate what this does for our tax base and smile just a bit, consider it a great weekend to get out of town.
What Barrel Tasting
IS

:
A chance to taste some great wines.
A chance to learn about wine that isn't done yet, and the wine making process.
A chance to buy great wine and save some dollars, both in futures and finished wine sales.
I have more detailed information and suggestions in articles: My thoughts on Wine Road Barrel Tasting and Barrel Tasting Insights – What am I Tasting & Do I Get Splinters? What should I buy?
As always, I suggest you print out the Wine Road program, and make a plan. Some wineries participate early on Friday, this is an EXCELLENT opportunity for more attention and less traffic. Some wineries also only participate the first weekend.
What To Bring:
The program guide, with your plan: http://www.wineroad.com/media/originals/112-BT%20program%202012.pd
A cooler to put your wine purchases in. Yes its going to be 70 degrees. Bring a cooler. Heat kills wine.
Some food items. Since much of Dry Creek and Russian River is sparse in dining options, bring a picnic, a blanket and take a meal break. Or make your plan around dining somewhere in Geyserville, Healdsburg, or Santa Rosa. This is a day to be enjoyed, stop and smell the roses and eat lunch – its will enhance your day and experience. Its not a contest to see how many wineries you can visit.
Common sense. If you hate crowds and/or want to visit popular wineries, make your plan accordingly. Go to less busy areas like Geyserville & Russian River during peak times, and hit Dry Creek, Healdsburg, and popular wineries on Friday, first thing Saturday or Sunday morning.
Ok, Can I Win Tickets Already?
This Thursday Mar 1st, at 6 p.m. we will draw 4 pairs of winners for the Second weekend (March 9-11).
To win one of two ways (enter both!)
(1) Tell me in comments any one of the following:
Have you attended Barrel Tasting before, and what is your favorite part of the event? OR
Have you ever purchased futures before? Where? OR
If you won tickets, what winery do you want to go to most, and why? (Please make sure the winery you pick is participating, the list is here.
AND/OR
(2) Sign up for Simple Hedonisms email updates in the top right corner.
Its secure, private, and simply emails you when we have new articles. Nothing else. (Important – you will receive a confirmation email to complete your subscription, you must finish that step to be eligible.)
I look forward to hearing your thoughts and giving away some tickets! See you on the Wine Road – Heaven Condensed!
Related Articles
Barrel Tasting Insights – What am I Tasting & Do I Get Splinters? What should I buy?
My thoughts on Wine Road Barrel Tasting. Tell us yours and win tickets.
Observations of Wine Road Barrel Tasting Week One; Suggestions & Ticket Contest for Week Two
Wine lovers and romantics are still coming down from the chocolate-induced sugar high last weekend's pre-Valentine's Day festivities caused. Fortunately, events for the coming days put the emphasis back on wine.
Start off your weekend with a jaunt
to the town of Sonoma this Friday evening. The Lodge at Sonoma is hosting the VinOlivo Grand Tasting. Nearly 60 different Sonoma wineries will be pouring and 25 restaurants and caterers serving.
If you're a fan of Alsace varietals, or just like to laugh at people trying to say "Gewurtztraminer," then I highly recommend you head up to Boonville this Saturday for the 7th annual Int'l Alsace Varietals Grand Tasting. There you'll find more Pinot Gris under one roof than imagine. And, if you get white wined out, you can amble down the road a bit and enjoy some lovely Anderson Valley Pinot Noir.
If you have an interest in California wine history — and would like to meet it — you've got to go the 6th Annual Vintners Hall of Fame Induction Celebration at the Culinary Institute of America at Greystone in St. Helena. The food and wine are always excellent and you'll never have a better opportunity to meet the legends of the California wine industry. Here are this year's inductees.
All events listed below are in chronological order by region. Some events require advance reservations or ticketing, so it's best to click through for any event you'd like to attend. The headline links for each event will take you to the calendar at NorCalWine.com where you'll find further details on that event. And event organizers sometimes change details at the last minute, so it's always a good idea to contact the host prior to showing up at their doorstep. For events in other regions, also check the calendar or my weekly NorCal event articles.
Lake County
Saturday, February 18
Ceago Winemaker Dinner at the Tallman Hotel — Upper Lake: 6:30pm – 8:30pm
Owner Jim Fetzer, winemaker Barney Fetzer and family members will be there to introduce the wines and pairings.
Mendocino County
Saturday, February 18
Int'l Alsace Varietals Festival Technical Conference — Boonville: 9:00am – 11:30am
Winemakers from around the globe discuss winemaking and grape growing specifically for Alsace varietals.
7th annual Int'l Alsace Varietals Grand Tasting — Boonville: 1:00pm – 4:00pm
Meet the winemakers and taste Alsace-style white wines from around the world, including Riesling, Gewurztraminer, Pinot Gris, Pinot Blanc and Muscat.
Alsace Festival Winemakers Dinner at Shaffenberger Cellars — Philo: 6:30pm
Enjoy a sumptuous dinner with the winemakers and learn more about their wines in the elegant private dining room at Sharffenberger Cellars.
Napa Valley
Ongoing Events
Saturday February 11 – Monday, February 20
The Ultimate Decadent Tasting at Trefethen Family Vineyards — Napa: 10:00am – 4:30pm
Enjoy special selections of Trefethen wines paired with handmade confections produced by one of Napa's finest chocolatiers.
Friday, February 17
Cornerstone Cellars Winemaker Dinner at Bardessono — Yountville: 5:30pm – 8:30pm
Enjoy a special 5-course tasting menu drawn from Lucy's Garden by Chef Victor Scargle, inspired by the wines of Jeff Keene.
Saturday, February 18
2009 Cabernet Sauvignon Release at Nichelini Family Winery — St. Helena: 11:00am – 5:00pm
Leona Marini, 4th generation, will be on hand to offer food pairings and stories.
Winemaker's Dinner & Bob James Concert at Miner Family Winery — Oakville: 6:00pm – 10:00pm
An intimate concert in the caves followed by a a four-course dinner prepared by La Saison chefs Natalie & Jonathan Niksa paired with new release 2009 Miner Cabernets.
Sunday, February 19
2009 Cabernet Sauvignon Release at Nichelini Family Winery — St. Helena: 11:00am – 5:00pm
Leona Marini, 4th generation, will be on hand to offer food pairings and stories.
Monday, February 20
6th Annual Vintners Hall of Fame Induction Celebration at CIA Greystone — St. Helena: 4:00pm – 8:00pm
A rare opportunity to mingle with noted winemakers, famous chefs, and wine-loving celebrities.
Sonoma County
Friday, February 17
VinOlivo Grand Tasting at The Lodge at Sonoma — Sonoma: 7:00pm – 10:00pm
Sip Sonoma Valley's best wines as you get to know the personalities behind the
wine. Sample food from more than 25 of Sonoma's purveyors.
Music at Vino di Amore Tasting Lounge — Cloverdale: 7:00pm – 9:00pm
Guitar ballads with Brian Ward
Saturday, February 18
Mardi Gras Celebration at Meadowcroft Wines — Sonoma: noon – 4:00pm
The St. Gabriel's Celestial Brass Band, down home Louisiana cookin', a Second Line-Parade, award winning wines and of course BEADS!
Sunday, February 19
Amphora's Zinvitational: Zinfandel and Cioppino at Amphora — Healdsburg: 11:00am – 4:30pm
Current, library and barrel-sample Zinfandel plus Cioppino, sourdough and green salad.
President's Day Celebration at Old Roma Station — Healdsburg: 11:00am – 4:00pm
Limited production wines from Bluenose, Hart's Desire, J. Keverson, Kelley & Young, Sadler-Wells, Sapphire Hill, Skewis, Shippey and Willowbrook.
Sundays on the "Terraza" at Santa Rosa Vintners Square — Santa Rosa: 2:00pm – 5:00pm
Bring a picnic. They'll will provide the wine, bocce ball court and live music.
Thursday, February 23
J Vineyards & Winery Winemaker Dinner at John Ash & Co. — Santa Rosa: 6:00pm – 10:00pm
Join J Vineyards & Winery Assistant Winemaker, Scott Anderson, for an excellent dinner paired with five J wines.
Event organizers and publicists get your events published here. Post your events in the calendar at NorCalWine.com. Posting events there requires a one-time registration (easy, peasy), but is totally free of charge. And it only takes a couple of minutes. I'll soon post a guide at NorCalWine.com with tips on how to make event posts as effective as possible.
Disclaimer: The events I'll call attention to here are those that I've become aware of and which offer something beyond the standard winery tasting room experience. Neither I nor William are compensated by any of the event organizers in any way. The listings are for the benefit of the community. Event details are subject to change without notice.
This article is by Fred Swan for Simple Hedonisms. All rights reserved.
As a wine reviewer, geek, and consumer, wine preservation is one of my largest challenges. I regularly have 2-4 bottles of wine open at a time, often special ones I want to keep 
preserved.
Over the years I have tried many techniques and gadgets, with varying success. Fodder for another article, but let me just say, air is bad for wine and that vacuum pumps don't cut it.
Peter Jackel, the developer of VinAssure Argon wine Preservation, is a wine geek and love, we chatted live prior to this article.
Why VinAssure
VinAssure grew out of a simple desire not to waste wine, and a practical business need to make good use of every last drop. For years Peter was the owner and proprietor of a small wine store and tasting bar. One day he calculated the dollar cost and waste of  tossed  wine that had just become an accepted sunken cost of the business. Even with a small program the numbers were staggering, as he realize he was pouring potential revenues down the drain.
Ditch the 'Can'
Peter first took the 'band-aid approach', and started using the disposable gas-in-a-can for preservation. This method was pricey for the low quality of preservation, but Peter was complacent with my hasty preservation solution., Then one day when a regular customer sitting at the tasting bar happened to see me gassing a bottle with the disposable can stuff. This sparked an in-depth lesson and virtual tongue lashing on how gas-in-a-can was a mixture of gases including Nitrogen and Carbon Dioxide that produced a drastically inferior barrier of protection against oxidation.
Peter quickly learned that experts and industry professionals resoundingly agree the best method is to seal in the aroma and flavor of wine by creating a layer of 100% pure argon gas, the heaviest and most dense of all colorless, od
orless gases that can be used to preserve wine. This conversation peaked my interest, and sparked what would become a three year journey to discover and develop the most effective, efficient, and affordable wine preservation system possible.
VinAssure is Born
One of the first high-pressure systems developed saw daily use in Peter's  wine shop and tasting bar for over three years. It was so simple and economical that they decided to develop variations of the basic system for use in both home and commercial settings. Using the finest quality industrial parts, they have created a lightweight, hand-held device which holds a great deal of argon gas under high pressure. This allows VinAssure™ to last much longer than other systems, lowering the per-use cost to a fraction of some comparable preservation systems.
VinAssure is simple and easy to use, check out this video in action.
The Perfect Gift for the Wine Lover (Or your Tasting Room/Wine Bar)
I bought one for myself I was so hooked after seeing it in action at a local tasting room. Its a biggest investment than the small cans, yes, but its a superior solution, refillable, and more environmental. Your wine aficionado will love you for it.
I have been amazed how many tasting rooms use the little cans…spend a bit more now to save money long term, and preserve your wine much better and long. The ROI on this should be pretty short.
Other Geeks Agree!
http://www.princeofpinot.com/article/872/
http://www.examiner.com/wine-in-newark/spotlight-vinassure-wine-preservation-system-review
http://partnersinwineclub.wordpress.com/2010/11/01/vinassure-review-1/
http://www.grapeadvice.com/index.php/2010/11/vinassure-wine-preservation-system/
Cheers!
It's time to bring it back home to Russian River Valley, and feature one of our unsung heroines, Kathleen Inman of Inman Family Wines.
Welcome to our third selection of winery of the month. In keeping with the theme of previous selections, this title is awarded too wineries whose wines  have been epiphany experiences (and often still are) and for outstanding contributions to the wine industry, community, and environment.Inman Family Wines, nearby in Russian River Valley, is overdue for this recognition.
Uncompromising Wine Making Philosophy
Kathleen, on her 10th vintage, has come into her own as a world class wine maker, making Pinot Noir (and a few other treats) in styles she believes in. She isn't into scores or trend chasing, and never relents in her pursuit of wine making the has an expression of place and vintage, with minimal intervention, making the very best wine that she can.
Kathleen has been rewarded by solid steady growth – while many small wineries have decreased production, Inman continues to steadily expand each year, reaching 3400 cases in 2011.
A Trailblazer in Eco-Friendly Practices in The Vineyard & Winery (Eco-Ethics)
Secondly, Kathleen has been repeatedly recognized for her many industry leading accomplishments in sustainability and green practices, both in the vineyard and the winery. Not because they are sexy marketing buzz words, but principles she has believed in, and practiced, long before they became in vogue.
Rather tha
n re-write them all here, they are captured in several documents on the Inman website, drill down a bit, starting here. I challenge you to find a local winery that has invested more per capita in water reclamation, recycled materials, and sustainability. (And an electric car charging staton to boot!)
I should point out as well that while I say Kathleen, who beyond any doubt is the workhorse of this labor of love – there is a family behind the story, as it seems almost necessary to make it as a small winery. Kathleen's husband Simon, has stood by, supported and thrown in many hand of assistance, on top of his legal pursuits. Kathleen and Simon have two wonderful daughters they dote on, whom can be found helping out around the tasting room during college semester breaks. One can only hope at least one will eventually get the bug and become second generation. Sadly, I am close to Kathleen's age, or I'd ask for adoption.
A Foodie At Heart
Kathleen is all about food, and pairing it with wine. Unfortunately 'food friendly' has become an overused word in the industry, but Kathleen lives, breathes, and …eats it. Even in the early stages of wine making of a vintage, when doing barrel samples, she is thinking ahead of foods and sauces that will pair well. Her recipes have been published as well as recorded professionally.
You can check out many of her recipes here: http://www.inmanfamilywines.com/Recipes?
Endless Crush
This close family and their support of Kathleen's pursuit is an excellent start for the story behind the wine of the week, the 'Endless Crush.' No its not a horror story about the 2011 Harvest that seemed it would never end, but the love story of Kathleen & Simon.
For their 20th wedding Anniversary Kathleen wanted to make a special romantic wine for Simon, and started making a special rose' every other year. Kathleen being Kathleen, this was of course a true rose', not a saignee or juice bleed off. That means that grapes that could go into a $50 Pinot Noir, were instead being used for a Rose' wine, which no matter how wonderful, can't sell for that price, thus profit is given up for love.  Endless Crush rose' is done every other year, is a wonderful wine that quickly sells out.
For their 25th anniversary, Kathleen wanted to start a new tradition that was extra special. She had been studying closely the various methods of making sparkling wine (we are no longer allowed to call it champagne,) and decided to release a special sparkling brut Rose', from Pinot Noir.
Wine Review: Inman Family Wines 2009 Brut Rose' Nature "Endless Crush"
There are many remarkable things about this sparkling wine. One is that is unusual for California wine is that no  sugar in the final 'dosage' is added. A dosage is added right before final corking, and has a varying degrees of sugar (thus sweetness) depending on the style. The dosage sweetness can come from a variety of things, including the current vintage sweet juice itself.
In this case Kathleen added 2% of barrel aged 2009 OGV Estate Pinot Noir for added complexity and to tint the wine ever so slightly.
This makes the sparkling wine in line with other Kathleen's other wines, higher in acidity, making them truly food friendly.
To The Eye: Just the slightest tinge of pink.
One the Nose: Lots of strawberry, citrus and a hint of  bread yeast
In The Mouth:  I am not a bubbles snob, but my appreciation has definitely grown the last few years, and this is a gem, not a surprise given how much I like Kathleen's other wines. Bright in the mouth, great acidity combined with rich texture and mouthfeel, lingering finish and some minerality, this is a unique work of art.
Recommendation: An amazing bottle of sparkling, made by a champion of the earth, with a romantic story behind it. Can there be any greater gift?
93 points. Highly recommended, buy two, one to drink, one to lay down. $56 online or at the winery. For a limited time there is a holiday two pack for $99. 
Food Pairing: Kathleen recommends "The recipe for crab and scallop cakes are a natural with the bubbles"
Happy Holidays & Cheers!
Related Articles:
Part 1 of "The 12 Days of Wine Christmas" – Why not Wine? Some Gift Pack Suggestions
The Sonoma Valley Vintners and Growers Association "Wine Market – Holiday Edition" proved to be a great opportunity to taste from 27 wineries in one place, including small producers not open to the public. Here you could taste, then purchase unique wines at fantastic savings. Excellent food tastings, and food-wine pairing advice was available from local Sommeliers  – in Santa hats no less.  Last not least, you could speak with the winemakers … and see what characters they can be!
Santa in Floods? Bart Hansen, winemaker at Dane Cellars, says he spends most of the year in Bermuda shorts. When Sonoma temps hit 75' F on December 2, he rolled out to the event in his special Santa Floods.  The Dane Cellars Clarksburg 2009 Chenin Blanc he poured is richer bodied than a Sauvignon Blanc, making it a was a good wine for a sunny winter day and a perfect match for the Truffle Mac 'n Cheese served up by the girl and the fig.
Santa Sommeliers. What is a sommelier (so-mel-yay)? A "Somm," or wine steward, is a trained and knowledgeable wine professional specializing in all aspects of wine service as well as wine and food matching.  Three certified Somms in Santa hats roamed the floor at the "Wine Market – Holiday Edition" event, helping guests with wine advice, pairing, and directing them to wine specials.
Cocky Wine: Eric Ross 2010 Struttin' Red
Eric Luce, winemaker at label Eric Ross, invites you to taste his red blend of the year. 2010 is a unique blend of Tempranillo, Old Vine Zin and Petite Sirah. It screams out for a really good Cheeseburger. Failing to find any cheeseburgers, this wine was great with the Truffle Gateau chocolates featured at the Market.
Consumers have many benefits to gain from a single-location event like this. To name a few:
Access unique fine wines and local cuisine
Lower prices on quality wines
Remove the driving around from a wine-tasting outing – all the wines and food, all in one place
Access to *Santa Sommeliers* to advise on matching foods with the wines you like
Buy where you taste and take your wine home with you!
I had a conversation with Christopher Sawyer, Somm at Carneros Bistro in Sonoma. I asked Chris how one should go about pairing up wines with a meal. "First of all, the method should be reversed. Decide your menu, then match the wine to it."  OK, I said, then to break the rules a bit, let's say I've got a Zinfandel from Haywood Winery, which is pouring here today. Chris suggests, "This is a supple, medium body Zinfandel that gives you a lot of flexibility with the food pairing. Game. Duck. Spicy pork with compote on the side. Strip steak. And of course Ribs will go well with Zin."
Wines of note:
Eric Ross 2010 Marsanne-Roussane. Your guests will appreciate when you serve this unique white. Winemaker Eric Luce blends two grapes from the famed SaraLee's Vineyard in Russian River Valley to make a wine in the Rhone style that everyone's talking about.  Full-bodied, food-ready, and a great under-$30 wine to diversify your palate.  It paired with the Truffle Mac 'n Cheese and I would recommend it with any cheese.
Dane Cellars 2007 Jackknife Cabernet Sauvignon. When you are looking for full-flavored, medium-bodied Cab, the Jackknife is a great choice. From a vineyard high above Sonoma Valley, with volcanic soils and generous late afternoon sun, this wine explodes with fruit and complex flavors. Sommelier Sawyer says:  "With a medium-bodied cab like Dane Cellars' Jackknife you have more flexibility in your menu – you can pair with red meat or you can go with a bigger fish such as sturgeon or tuna prepared with a soy sauce."
Pip 2010 Sonoma Coast Chardonnay.  Undecided between oaked and unoaked? You can't go wrong with this under $20 wine from Dunstan, from famed Durrell Vineyards blended with nearby grapes, then aged in 1/3 neutral oak and 2/3 stainless steel.  The resulting Chardonnay will please both the oaked and unoaked taste, as the neutral oak imparts lovely vanilla aromas and softness while the stainless steel defines the varietal character and imparts a crisp finish.  Another great match for the Truffle Mac 'n Cheese.
Best new wine find: 
Annadel Estate 2008 Anni's Blend is an instantly memorable red wine that's also easy to pair with food.  I got rich fruit medleys and a velvety mouth feel from this blend of 45% Cabernet Sauvignon, 40% Merlot, 10% Cab Franc and 5% Petit Verdot. For a Cab-Merlot blend like this, you could even serve it with a Mac & Cheese dish with toasted walnuts and mushrooms, according to Sommelier Sawyer.  The adjacent "Coppa & Apple Mostarda on Foccacia" from Estate went well.  Annadel Estate Winery is the effort of a family who are restoring an 1880's vineyard estate in the region. Expect to hear more about their wines soon.
There were many more varietals and examples of great winemaking available for taste. I can't cover them all here. See what you missed and check back soon for upcoming events at the Sonoma Valley Vintners and Growers Alliance website.
On my Christmas wishlist: http://www.platsdujour.net/