I am back! Finally catching up after  Eighteen days in Europe – Denmark, Portugal, and the balance in France – with glorious tastings in Chablis and the Northern Rhone, where Syrah is the red grape of choice (and AOC law.)
For those of you still snickering over Syrah, cracking pneumonia jokes etc – move on. Syrah's Darwinist down phase is over -  Moscato or some other 'varietal great white hope' is next.
In truth, this 'market correction' was needed. Way too much bad syrah was being made, as well as planted in wrong places everywhere.
People and places that had no business being in Syrah are gone. Good riddance. The strong have survived. Incredible syrahs, especially from cool climate are in
high demand, and increasing in price, from small, talented, cult producers.
Pining For The Northern Rhone
I spent a week in the Northern Rhone, with 12 deep, technical tastings,  my glass graced with some of the Rockstars of the Northern Rhone: Gangloff, Faury, Allemand, to name a few.
My first week back, as a sanity check, I popped open a bottle from Randall Grahm, the US veteran Rhone Ranger. How would his modest priced Rhone  – Syrah offering fare?
(PS – Randall – they love you over there.)
Tasting Notes: 2009 Bonny Doon 'Les Pousseur' Syrah
At 13.5% alcohol, Mostly/all Neutral oak (thats my guess), solid acid/pH numbers, and most importantly, great flavor profile,  Bonny Doon delivers the CA syrah goods at an every day price point.
To The Eye: inky deep purple, reminiscent of Cornas, no light shall pass!
On The Nose: Smoked meat, black olive tapenade, modest black fruits.
In The Mouth: Well balanced. Dark black fruit, bacon notes, savory notes, good texture and soft tannins.
This is a rock solid syrah. BDV "Doon' Members get this at a meager $21. Thats Syrah you can enjoy on a weeknight and feel great about.
This wine is officially sold out and the tasting room is selling the new 2010, but there is some online to buy
and its in some retail channels still.  Grab some now! (I just re-ordered.)
Notes from Randall:
I don't usually wholesale plagiarize a wine makers notes – but no one says it like Randall. How can you not love this man's words?!
"La syrah," the French say—syrah is deeply and elementally feminine—is perfumed elegance. Enchanting and capitvating rather than overpowering, it disarms by its strangeness. Like Borge's Zahir, syrah makes an indelible impression. One will wander the world till the end of one's days, its sublime, haunting fragrance gradually displacing all thoughts and memories, including the knowledge of one's own name.
Oh those Europeans and European-styled wines! Initially very closed when you first meet them. Air (and time) lures them out of their protective cocoon.

Our '09 Syrah "Le Pousseur" is named for an alchemist and trickster, but is withal an incredibly accessible wine, great by the glass but also a felicitous partner to all manner of roasted meats, poultry, game, wild mushrooms, and well aged cheeses.
Wine Geek Info:
Varietal Blend: 100% syrah
Appellation: Central Coast
Vineyards: 56% Alamo Creek, 32% Bien Nacido, 12% Chequera
Alcohol by Volume: 13.5%
TA: 0.58 g/L
pH: 3.73
Serving Temp: 55-60ºF
Cellaring: 5+ years from release (May 2012)
Production: 1200 cases
The Northern Rhone is my favorite wine region in France, I have been enjoying tasting through its regions prior to my upcoming trip there.
This is the land of cool climate Syrah, of which Côte-Rôtie is the most well known.
The first night quic
kly sampling this was pleasant, but didn't have that 'ooh' factor I want in a $60 Côte-Rôtie. Fortunately the second night, it improved.
I can't agree with the comments on CellarTracker from a year ago of too much oak or new world style. But its a year later it could have integrated some. If anything the wine was a bit simple
prior to some air. And at 12.5% alc not over done or over ripe.
Its still young (obviously) and improves with aeration, and will do so bottle aging.
It was also more aromatic night two. Also
interesting as I changed to a larger Riedel stem, more oak was prevalent on the nose.
Tasting Notes: 2009 Louis Barruol Côte-Rôtie 'Les Roses'
To The Eye: Dark purple color, unfiltered.
On The Nose: (Varied greatly by stemware bowl size – tried 3 different size Riedels.) Violets, White pepper, smoked meat.
On The Palate: Black fruits, olive notes, meaty notes; a finish of mocha, with some structure, and a good finish.
Imported by Kermit Lynch. Not a value buy at $60, but a fair price for Cote Rotie. I'd cellar if purchased.

Yes, reviews and tasting notes are back! With the 2012 harvest behind me, its time to get back to sharing tasting notes. (Note that even when I don't post regularly here, you
can still regularly find my notes on Cellartracker.
Rhoning With Ridg
e
I was in love with this Syrah when I had it earlier this year, and am in love again now, wish I had bought a case instead of 2 bottles. It is sold out, I have to admit. This release is a hit each year, and doesn't last long. The 2007 is available now, and I intend to taste and buy a few this weekend.
Generally my Syrah palate leans towards cool climate Syrah, that have a different flavor profile, are leaner, and lower in alcohol, but the Ridge is an example that Syrah from warmer regions like Dry Creek can still be (very) appealing to those with cool climate biased palates.


This Syrah is bolstered I believe, in part, because it hs 8% Viognier, co-fermented, Cote Rotie style.
Tasting Notes: 2006 Ridge Lytton Estate Syrah, Dry Creek Valley
To The Eye: A deep inky purple
On The Nose: wonderful aromatics; notes of blueberry & violets, supporting stronger notes of black fruit, dried fruit, many layers.
In The Mouth: Layered dark fruit, with both silky texture and structure. Great acidity that integrates beautifully. Black fruit and smoked meat on the front palate, silky red fruit mid palate, and then and incredible lingering finish that is full of fruit and acid, that slowly fades off the tongue over 30-60 seconds.
At 14.4% alcohol, it is modest, and balanced. Typical of Ridge, this wine has a decade + of aging potential, but is highly enjoyable now.
A gem of a wine, that any wine lover can find something to appreciate, and fairly priced at 34 dollars. 92 points
It was enough to make my finally buckle and join the Ridge Wine club.
Taste Rhones in New York Next Week, Hurricane Sandy Fundraiser
If you are in New York, next Wednesday you can taste Ridge, and 30 other Rhone Ranger producers at City Winery New York. The Rhone Rangers will be making donations to the Red Cross relief effort. See details at: What Hurricane? Rhone Rangers Ride to NYC Nov 7th – Details, Relief Efforts, Promo Code & Ticket Contest #RRNY
Related Articles
What Hurricane? Rhone Rangers Ride to NYC Nov 7th – Details, Relief Efforts, Promo Code & Ticket Contest #RRNY
Wine of The Week: 2009 Petrichor Les Trois Syrah (or Wow!)
Tasting Notes: Wesley Ashley Wines 2009 Intelligent Design Cuvée – And Why Rhone Blends Rock
Join fellow Rhone Wine Lovers at the "Romancing the Rhones"

Grand Tasting




Do you love Rhone wines? Share in a deliciously Rhone experience on Saturday, July 14, At The Old Mint in San Francisco, Saturday, J
uly 14, 2012. Getting there is easy: it's close to BART and there's also a parking garage across the street!
Enjoy inspired, Rhone-friendly foods from local artisans. Sample amazing Rhone wines from California, Oregon and beyond. Learn something new about Rhone varietals.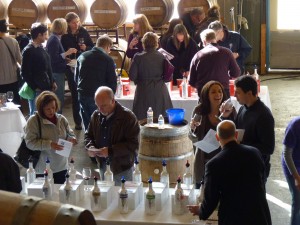 As a Rhone enthusiast, I am very excited about this new event. I don't normally discuss my own small wine brand, Two Shepherds on Simple Hedonisms as I believe in separation, but I will share that Two Shepherds is pouring its new 2011 releases which include the Grenache Blanc recently featured in the San Francisco Chronicle by Jon Bonné. I will also be pouring barrel samples of the very limited release 2011 Russian River Valley Grenache and Syrah at the VIP Barrel tasting portion.
Romancing the Rhones: Event Info & Options
Taste 100+ amazing Rhone wines from 40+ Rhone producers
Gourmet "Rhone Romance" Lunch with the Winemakers @ Chez Papa Resto in the Mint Plaza. Limited seating (Gold Bar Tickets, $85)
VIP Barrel Tasting (Gold Bar & Silver Dollar Tickets) – early start at 1230.
Blind Tasting of 40 top-scoring wines from Rhone Shootout.

Pit your palate against the experts and vote for your favorites!

Walk Around Grand Tasting in the Vaults – meet the Winemakers
Perfect Pairings – 8 succulent wine & 8 brilliant bites (optional: $20)
Awards Ceremony – vote for your favorites
Gold VIP lunch is at 1130.
Gold and Silver VIP start at 1230 with Barrel Tasting and regular wine.
The Grand Tasting is from 2-430
Enter to Win A Pair of Tickets (Ends Tuesday Evening July 10th)
To Enter To Win is Easy – simply tell us in comments below, from the list of participating wineries below:
Which is your favorite and why/which wine you like most
OR
Which Winery are you most eager to try
Please include your first and last name for ticket will call in your entry.
Good luck and see you Saturday, Bastille Day!
Participating wineries include:
Anaba Wines
Art Farm Wine
Aver Family
Bonny Doon Vineyard
Bourassa Vineyards
Canihan Family
Cass Winery
Cinnabar Winery
Cornerstone Cellars
Crooked Vine Winery
Derby Wine Estates
Dierberg Vineyard
Drytown Cellars
Eden Springs
Fenestra Winery
Field Stone Winery
Fortunati Vineyards
Gatt High Eden
Gatt Wines
Grizzly Peak Winery
Guglielmo Winery
Hahn Family Wines
Hearthstone Vineyard and Winery
Holly's Hill Vineyards
Hug Cellars
Jazz Cellars
Jessie's Grove Winery
Leucadia Red
Mangels Vineyards
Michael David Winery
Midsummer Cellars
Nottingham Cellars
Perrucci Family Vineyard
Poetic Cellars
R&B Cellars
R2 Wine Company
Rahn Estate
RoxyAnn Winery
Skylark Wine
South Coast Winery
Spangler Vineyards
Tallulah Wines
Tercero Wines
The Winery SF
Two Shepherds
VIE
Tick Tock – the Countdown to Two Amazing Rhone tasting events continues. This next weekend , March 24-25 is the Rhone Rangers "Weekend Celebration of

American Rhones

." Over 100 domestic Producers from California, Washington, Oregon, and even Virginia assemble in Ft Mason, San Francisco for two days of seminars, winemakers dinner, auctions, and tastings.
Just one month later, April 26-28th Rhone lovers head to Paso Robles for Hospice du Rhone, "the World's Largest International Celebration of Rhone Variety Wines." This event is a stunning immersion of seminars, lunches, dinners, & tastings.
Each week Simple Hedonisms is celebrating with at least one Rhône wine review.
Rosé Wines – Man Up – Drink Pink. This Isn't Your 1990′s White Zin, It's a French Classic Wine
My friend Lisa Ortman of Ortman Family Cellars used to say "Man up, Drink Pink." The myths surrounding Rosé wines are still a bit perplexing to me. Lets smash a few of them, shall we.
1. Most quality Rosé wines are dry aka not sweet.
No, not that corporate mass produced sugary garbage at the bottom of the supermarket shelf, the real stuff from your local artisan winery or imported from France.
2. Rosé is for women.
For the record men – Rosé is made from RED WINE GRAPES. The only reason its pink is because it doesn't spend much time on the skins during fermentation, which is the ONLY reason that red wine is even red! This concept is as assanine as the thought that "real wine drinkers don't drink white." (Which I'd contend its the opposite if anything.)
3. Rosé is a summer wine only.
This myth is perpetrated both by consumers and by wineries, who are deathly afraid of being caught with any Rosé left by October. It's true, a good Rosé is a great summer sipper and aperitif. But its hardly limited to that. I was amazed at my trip to France and the Rhone this January – most restaurants had more Rosé by the glass than whites, and swarthy French men bundled up in wool had no issue ordering a bottle of Pink. The higher acidity in Rosé pairs it nicely with food, and its one of my top recommendations for the winter Thanksgiving and Christmas holidays as well.
4. Rosé can't age.
Generally the spirit of Rosé is a wine meant to be drunk young, fresh, and consumed in the first year or so of release. But many Rosé wines can actually age quite well, particularly if they are a 'true' Rosé – that is to say grapes picked early in the season to be higher in acidity, lower in alcohol. The acidity preserves the wine, and softens with age. Indeed a few Rosé wines I have bought and specifically but aside awhile to let the brightness subdue a bit. The freshness will tamper down a bit, and the wine will change. Generally one wouldn't hang on to a Rosé more than a few years, but for every rule, there is an exception, especially with wine geeks.
Rhône Rosé Panel: Quivira, Mounts, and Skinner Vineyards
I recently compared three Rhône Rosé wines in an impromptu panel. I am debating putting out a "call for Rosé" as I did in December for sparkling, for a more thorough review – stay tuned. If interested, email me.
Rhône wines in my opinion, especially Syrah and Grenache, make exceptional Rosé wines. These three do not disappoint.
(1) Mounts 2010 "Pink" Syrah Rosé
I frequently wax poetic about the Mounts, and I hope to write an in depth article soon.
Watching their evolution over the last 4 years has been a rewarding experience as this four generation Grower family continues to innovate and has become a Dry Creek Valley Rhone producer to follow.
This 2010 is a wonderful Rosé of Syrah. Kudos to Dave Mounts for picking, making a true rose', not a Syrah juice bleed off.
Bright salmon pink color. Essence of strawberry, watermelon, tomato vine, on the nose. Crisp, bright in the mouth, cherry, jolly rancher, watermelon, in mouth.
Lingering mouth watering finish. Drinkable all year round, and a few years bottle time thanks to the nice acidity. At 13% alcohol, can drink a few of these.
Sadly the Mounts are down to about a dozen cases, and there is no 2011 Rosé. I only hope they make it again for 2012. Pretty please? At least hold 6 more 2010 bottles for me.
(2) Skinner Vineyards 2010 Grenache Rosé
A winery in the Sierra Foothills I have my eyeballs on. This Rosé is mostly Grenache with a touch of Mourvedre.
Color – clear, salmon-strawberry color. On the nose -cherry, red fruit, hint of watermelon,
tomato vine, red hard candy
Palate – Enjoyable, food friendly, excellent acidity. Cherry, hard candy vibrant front palate , pleasant mid palate, and a lingering finish with notes of spice & hazelnut.
Would pair well with many foods and cheeses.
(3) 2011 Quivira Rosé
Quivira is another of my favorite Dry Creek Rhone producers and new winemaker Hugh Chappelle continues to do great things as Quivira lets him be the creative artisan he wishes to be.
Quivira's newly released low production rose' – never lasts long. New in screw top this year.
Like last year, heavily Mourvedre based, unlike Grenache based Rosé of years prior.
Light, bright, pink in color. Nose of watermelon jolly rancher and strawberry. Wonderful in the mouth, watermelon, white peach, red fruits. Mouth watering acidity that lingers on finish.
13% alc. Fresh. Bright. Fun.
Related Articles
Tuesday Mar 20th – Join The Rhone Rangers and "SonomaWilliam' for a Live Rhone Twitter Tasting 530-700 pm
Simple Hedonisms – Simple Suggestions For Thanksgiving Wine Pairings
Tasting Notes: 2009 Sainte Leocadie Minervois Rosé
Wine of the Week – Foppiano Vineyards 2010 Estate Rosé
Tasting Notes: Ortman 02 Series Grenache Rosé – Paso Robles
Wine of the Week – Carol Shelton 2010 Rendezvous Rosé (Mendocino Carignane)
Wine of the Week – Bonny Doon Vineyard Vin Gris De Cigare, Rosé
Wine of the Week: Baxter Winery 2006 Carignan – And the Rhone Countdown Begins
Unless you have been asleep for the last month, or not reading my blog posts (how dare you!) you should be aware I have been counting down to two upcoming amazing Rhone weekends. (Ok last weekend my new day job had me buried, and no weekly review.)
March is the Rhone Rangers weekend in San Francisco and April is the international Hospice du Rhône .
Read on, and enter to win tickets to next Sunday's March 25th Grand Tasting. (Ends Monday!)
Why Rhones? Palate Enlightenment
I am asked frequently why I am so passionate about the Rhône wine category. For many, I think Rhone wines were the 'epiphany' wine – the one that made you go "AHA" – THIS is what wine is about.
I am not alone, if you attend Rhône focused tastings & events I find attendees to be more passionate than any other category.
Many of us got here in a traditional path – we drank big New World Cabernet and Bordeaux varieties to start. Maybe we stumbled or were lead into white wines. With luck many of us found Pinot Noir, before over ripening, doctoring became rampant (and now thankfully is quickly retreating.) At some point we discovered a well made Grenache, Roussanne, Mourvedre, cool climate Syrah, or a great blend, that sung in harmony.
Rhône wines offer something for every palate, and have a wide range of diversity.
For the newer wine drinker, perhaps seeking to branch out from Cabernet, a warmer climate Syrah can be a pleasant change, shares some characteristics, but offers a different flavor profile.
A Pinot Noir drinker, eager to find more wines that express themselves and aren't buried in new oak may find a modest Grenache or Mourvedre, and fall in love.
For those who love whites, or who seek something interesting in a white, or even just want to learn to like whites: Rhone white wines can offer incredible density, complexity, acidity.

Much to love. Indeed I have converted many a "I don't drink white wine" naysayers with Rhone white wines.
Many Rhône producers, like legend and trailblazer Tablas Creek, follow the European philosophy that Rhone wines shine most as a blend. Rhone wines have more diversity across the varietals and give winemakers a huge flavor portfolio to work with, and thus consumers a myriad of combinations and flavor profiles. In Rhone wines, often the Sum of the Whole, is greater than the sum of the parts.
No matter how we got here, everyone has a story they love to share, and the journey of palate evolution never ends. Many, including winemakers will find the style of one variety, say Syrah, that they drank 5 years ago, is very different than what they prefer now. We have a wealth of winemaking styles, climates, terroir, and even grape clonal (genetic) differences that makes Rhone tasting a never ending exploration.
I Drank ALL the Kool-Aid!
One of these days I might write an article on my full story, but lets just say I am "all in."
Eighteen months ago I joined the Rhone Rangers marketing committee as Media, and Social Media Marketing lead
Last Summer I was voted onto the Board of Directors, as Media representative
Last fall my partner & I launched a new Rhône label & micro-winery Two Shepherds. We don't talk about our brand here, but its done very well thanks to supporters, and great accounts like the the girl & the fig, Spoonbar, K&L, Bottle Barn, Toast Wine bar, who have just about cleaned out our 2010 white releases, and now tapping into our newly released 2010 reds. I make wines in an old world, nuanced style, as I have been writing about, and put my money (literally all of it) where my mouth was. Sometimes I wish we sold less so I could drink it!
Over Winter I assumed the role of the President & Leader of the newly reformed North Coast Chapter. I am determined, with our members, to brand our area as a great place to Rhône . Look at our 4 page map and see how many producers we have.
Did I mention I have a full time demanding day job to pay for all this?
My only regret this year is that instead of roaming around as media (which I still do at many events, Simple Hedonisms is at an all time high of readers) I will be pouring our wine at the Saturday seminar #1, and the Sunday tasting. Not that I don't love to share and pour our wine, but the Rhoneophile in me will be chomping at the bit to taste. Last year I could have used two days, not 4 hours.
Come see us, we will be easy to find, next to our beloved restaurant partner the girl & the fig. Our 2011 Whites are doing well, especially our flagship Grenache Blanc, and will be released soon. Mention this article for a sneak preview of a 2011 sample.

March 24-25th: A Weekend Celebration of American Rhones
The Rhone Rangers is America's leading non-profit, educational organization dedicated to promoting American Rhone varietal wines. Nothing at all wrong with imported Rhones, I certainly by and drink my share, and a part of my heart will never leave the Rhone Valley – but the 140 members of the Rhone Rangers produce a wide array of great, diverse wines.
To pour a wine at a Rhone Ranger event, it must consist of at least 75% of one or more of the 22 Rhone varieties, designated here. How many can you name? (In fairness, we don't even yet grow all 22 here in the US. )
This weekend event is a wealth of tastings and Rhone immersion.
1. Seminars
Saturday has two great seminars:
Rare Wines; Taste the Unusual. 12pm, Firehouse. From Picpoul to Counoise and beyond, come and meet the rarest Rhones and find out what makes them so unusual.
Wine & Swine, A pairing of American Rhones with Bacon. 2pm, Firehouse. Some say everything tastes better with bacon, we say how about bacon with your wine! This seminar will demonstrate the bacon-friendly aspects of your favorite Rhone varieties.
Sunday has one:
A Celebration of Syrah from Diverse Regions. 11am, Golden Gate Room. Rhone Rangers producers are pushing the envelope on syrah in a variety of ways. Come and taste the most widely grown Rhone variety from points north and south and east and west.
Rhone Rangers seminars are a value, at $45-$65 compared to many events. The seminars are moderated by Rhone enthusiasts and popular wine writers Jon Bonne' of the SF Chronicle and Patrick Comiskey of Wine & Spirits. These esteemed gentleman will lead you through the tasting with input and comments from each of the wine makers. An inexpensive, unparallelled tasting & educational opportunity, for only 40 people per session Saturday, and 70 total on Sunday. These will sell out, don't wait. To see who is in each seminar, and buy tickets, see here: http://www.rhonerangers.org/calendar/sf_grand_tasting.php
2. Saturday Night Winemakers Tasting, Dinner, Auction
Saturday night, at the newly opened Ft Mason General's Residence, 17 winemakers will pour for you at a walk around tasting, then pour, sip and eat with you at dinner. Your meal is prepared by none other than the renowned girl & the fig.
This event also sells out every year, don't wait. http://www.rhonerangers.org/calendar/sf_grand_tasting.php
3. Sunday Afternoon Grand Tasting
The most popular event & culmination of the weekend: 110+ wineries from all over the US, many whom are small, hard to find will pour for you. Food purveyors and food trucks will also be on hand. Grab the program, make a plan, and taste your way through your favorite varietals, or learn & taste about some new ones.
NEW – Buy Wine and Take it Home! For the very first time, attendees can buy wine right at the table, pay for it and take it home. Since many of these wineries are small, and may not have local distribution, this is a perfect time to grab that gem you liked and take it home. Over 60 wineries will be selling wine, and will be specially marked in the program, as well as the flag at their table. To make it even easier, you may check your purchases at one of two holding points, so that you can continue to taste unencumbered. For those of you who attended Taste of Mendocino, this was a great experience.
Share & Enter To Win a Pair of Tickets – Ends Monday
To
win, simply post below in comments one of the following:
(1) Tell us what Red or White Rhone variety (grape) you are most interested in learning about, and why, in a brief sentence or two.
OR
(2) Tell Us Your Favorite Producer or Wine, from the List of those Participating
Correct answers will be pooled and drawn by random number generator Monday night! If you don't win, grab a ticket, at $45
Follow On Twitter
You can follow the event's fun live on Twitter, simply follow or search for hashtag #RRSF – cheers!
Related Articles
Tuesday Mar 20th – Join The Rhone Rangers and "SonomaWilliam' for a Live Rhone Twitter Tasting 530-700 pm
Wine of the Week: Baxter Winery 2006 Carignan – And the Rhone Countdown Begins
Tasting Notes: Wesley Ashley Wines 2009 Intelligent Design Cuvée – And Why Rhone Blends Rock
Wine of The Week: David Girard 2009 Mourvèdre – A Pinot Lovers Mourvèdre
Why Rhone Wines & Wine Review: Wesley Ashley Wines – Intelligent Design Cuvee – #WBW71
The Sonoma Valley Vintners and Growers Association "Wine Market – Holiday Edition" proved to be a great opportunity to taste from 27 wineries in one place, including small producers not open to the public. Here you could taste, then purchase unique wines at fantastic savings. Excellent food tastings, and food-wine pairing advice was available from local Sommeliers  – in Santa hats no less.  Last not least, you could speak with the winemakers … and see what characters they can be!
Santa in Floods? Bart Hansen, winemaker at Dane Cellars, says he spends most of the year in Bermuda shorts. When Sonoma temps hit 75' F on December 2, he rolled out to the event in his special Santa Floods.  The Dane Cellars Clarksburg 2009 Chenin Blanc he poured is richer bodied than a Sauvignon Blanc, making it a was a good wine for a sunny winter day and a perfect match for the Truffle Mac 'n Cheese served up by the girl and the fig.
Santa Sommeliers. What is a sommelier (so-mel-yay)? A "Somm," or wine steward, is a trained and knowledgeable wine professional specializing in all aspects of wine service as well as wine and food matching.  Three certified Somms in Santa hats roamed the floor at the "Wine Market – Holiday Edition" event, helping guests with wine advice, pairing, and directing them to wine specials.
Cocky Wine: Eric Ross 2010 Struttin' Red
Eric Luce, winemaker at label Eric Ross, invites you to taste his red blend of the year. 2010 is a unique blend of Tempranillo, Old Vine Zin and Petite Sirah. It screams out for a really good Cheeseburger. Failing to find any cheeseburgers, this wine was great with the Truffle Gateau chocolates featured at the Market.
Consumers have many benefits to gain from a single-location event like this. To name a few:
Access unique fine wines and local cuisine
Lower prices on quality wines
Remove the driving around from a wine-tasting outing – all the wines and food, all in one place
Access to *Santa Sommeliers* to advise on matching foods with the wines you like
Buy where you taste and take your wine home with you!
I had a conversation with Christopher Sawyer, Somm at Carneros Bistro in Sonoma. I asked Chris how one should go about pairing up wines with a meal. "First of all, the method should be reversed. Decide your menu, then match the wine to it."  OK, I said, then to break the rules a bit, let's say I've got a Zinfandel from Haywood Winery, which is pouring here today. Chris suggests, "This is a supple, medium body Zinfandel that gives you a lot of flexibility with the food pairing. Game. Duck. Spicy pork with compote on the side. Strip steak. And of course Ribs will go well with Zin."
Wines of note:
Eric Ross 2010 Marsanne-Roussane. Your guests will appreciate when you serve this unique white. Winemaker Eric Luce blends two grapes from the famed SaraLee's Vineyard in Russian River Valley to make a wine in the Rhone style that everyone's talking about.  Full-bodied, food-ready, and a great under-$30 wine to diversify your palate.  It paired with the Truffle Mac 'n Cheese and I would recommend it with any cheese.
Dane Cellars 2007 Jackknife Cabernet Sauvignon. When you are looking for full-flavored, medium-bodied Cab, the Jackknife is a great choice. From a vineyard high above Sonoma Valley, with volcanic soils and generous late afternoon sun, this wine explodes with fruit and complex flavors. Sommelier Sawyer says:  "With a medium-bodied cab like Dane Cellars' Jackknife you have more flexibility in your menu – you can pair with red meat or you can go with a bigger fish such as sturgeon or tuna prepared with a soy sauce."
Pip 2010 Sonoma Coast Chardonnay.  Undecided between oaked and unoaked? You can't go wrong with this under $20 wine from Dunstan, from famed Durrell Vineyards blended with nearby grapes, then aged in 1/3 neutral oak and 2/3 stainless steel.  The resulting Chardonnay will please both the oaked and unoaked taste, as the neutral oak imparts lovely vanilla aromas and softness while the stainless steel defines the varietal character and imparts a crisp finish.  Another great match for the Truffle Mac 'n Cheese.
Best new wine find: 
Annadel Estate 2008 Anni's Blend is an instantly memorable red wine that's also easy to pair with food.  I got rich fruit medleys and a velvety mouth feel from this blend of 45% Cabernet Sauvignon, 40% Merlot, 10% Cab Franc and 5% Petit Verdot. For a Cab-Merlot blend like this, you could even serve it with a Mac & Cheese dish with toasted walnuts and mushrooms, according to Sommelier Sawyer.  The adjacent "Coppa & Apple Mostarda on Foccacia" from Estate went well.  Annadel Estate Winery is the effort of a family who are restoring an 1880's vineyard estate in the region. Expect to hear more about their wines soon.
There were many more varietals and examples of great winemaking available for taste. I can't cover them all here. See what you missed and check back soon for upcoming events at the Sonoma Valley Vintners and Growers Alliance website.
On my Christmas wishlist: http://www.platsdujour.net/
How I came upon this wine is a mystery, I have no idea how it ended up in my cellar,. (Now over 1200 bottles, heavy on Rhones of course.)
I don't recall ever receiving it as a media sample, as I keep that pile seperate and marked, and I don't ever recall buying it. It may have been a gift in the blur of the Grenache Day tasting and BBash after.
Its possible I also had aquired the year I lived & worked part time in the NorthWest and just forgot to put it in Cellartracker. Whatever it's origins, I was glad I found it.
Note that 2008 appears to be the  current vintage. I generally don't review wines no longer for sale, but wanted to share this Rhone find from WA.
An interesting tidbit from the Gilbert Cellars website:
The blend "Allobroges" was named after a Celtic tribe that made its home in the Rhone River Valley in the days of the Roman Empire.  Their capital of Vienne is across the river from present-day wine region Cote Rotie.  The Romans named their wine from the Rhone Valley "Allobrogica" and they were known for being dark, rich, red wines.  Pliny first referenced Allobrogica in his book Naturalis Historia. It had been rumored that "Allobrogica" was an ancestor of modern Syrah, but that has not been proven. 
Review: Gilbert Cellars 2007 Allobroges Red Rhone blend
This wine is 55% Syrah, 31% Mourvedre, 14% Grenache, each from a different vineyard.
To The Eye: Deep purple, Syrah clearly dominating
On The Nose: Meaty, bacon fat, elements of the Mourvedre possibly. Black fruits.
In The Mouth:  A 'comfort' wine. It's not overly complex, and that's part of its charm. Sometimes you want a wine you can dissect with many layers, some times its fun to just enjoy a glass of something that tastes good, by the fire or ever a simple meal. Its lush in the mouth with out being over ripe or juicy. Nice texture. The wine is well balanced with nice integration of the Syrah and Mourvedre components. The Grenache adds a touch of spice, but is mostly dominated by its bigger brothers.  The finish is long and pleasant. 14.9% alc.
Recommendation. An easy drinking, fun crowd pleaser. Pair with any meat, most grilled fare, or your favorite chair and warm fire. . For ~$20 you can't go wrong. 88 points
Last Friday was International Grenache Day – not as prevalent as Cabernet Day – but people celebrated all over the world, abd hundreds of thousands of people were reached via Twitter during this celebration.
I held a walk around tasting  for 9 wineries and 80 people hosting vintners Quivira, Ridge, Mounts, Sheldon, Wind Gap Wines,  Baiocchi Wine, R2 Wine Co, and last minute entry Stage Left Cellars. More on this in an article later this week.
To compliment this tasting, the Ortman Family was nice enough to send rose' samples to share, which I splashed in peoples glasses as a palate cleanser and kickoff wine, for save one exception, we had reds all being poured.
The 02 Series
I am a fan of the o2 Series and its concept, and loved the Ortman Cuvee Eddy, 02 Series, San Luis Obispo County Rhone blend when I reviewed it last December.  What is o2?
Wines that are fresh, affordable, delicious, coming from a small family owned winery with 40 harvests under its belt.
Review:  Ortman 02 Series Grenache Rosé – Paso RoblesTo the Eye: Dark Salmon, Watermelon Flesh colored
On the Nose: Peach and Strawberry fill the nose.
In the Mouth: Bright, vibrant, refreshing. Watermelon, citrus. Juicy mid palate, lingering acidity on the finish. This wine is easily downed solo, but would pair with with oysters, salads, grilled chicken or fish, BBQ with tomato sauce, pizza. 14.5% alcohol.
Recommendation: As Lisa Ortman says:
A word from the ladies of Ortman Family Wines: Man up and drink pink!
90 points –  A recommended, high quality, value priced rose'. $16 online, and it appears they currently have great shipping specials – 1-5 bottles shipped to CA is $12, and shipping for 6+ bottles is only a penny. (Welcome to California ABC laws.)
There was only 90 cases made of this great summer sipper – grab a few. And lets get another thing straight –  Rosé is not just for summer – that's about as true as bubbles are only for holidays. You can enjoy rosé any time of year, and its an especially great food pairing, value priced wine for the holidays – stock up and drink pink!
Enjoy!
The  Grenache Symposium has declared Sept 23rd as Grenache Day. The main website still shows the 2010 Sept 24th event, but the press release, and how to map your event, is here. You can also follow them on Facebook here, and their blog here, which also confirms the Sept 23 2011 date. 
Organizations all over the world have already registered their events as you can see on the Google Map. Simple Hedonisms is taking the Sonoma count lead with another greenhouse event, and hope as many of you Rhone Rangers will follow. Personally, its a bad week, as I am locked up for 3 day judging the Sonoma County Harvest Fair competition, and its my birthday week – but hey, what better way to celebrate than recognizing my favorite red varietal.
Calling For Vintners to Participate and Pour, Sept 23 in Santa Rosa  Tasting (And Everywhere)
As a board member of the Rhone Rangers, and  the cat herder leading the new North Coast Rhone Rangers chapter, launching in late September with a new North Coast tasting room map (details soon), I am committed to the cause of domestic Rhone producers, and helping further the cause in the North Coast counties (Sonoma, Napa, Lake, and Mendocino.)
As I did for #chardonnay day and #PinotSmackdown, I will be holding an ABC licensed, walk around tasting.
Feedback both from wineries and attendees has been extremely enthusiastic – its an evolution of the (yawn) walk around tasting getting long in the tooth.
Why? First, a small, focused number of producers. (In the case of #Pinotsmackdown, gone through an elimination round tasting.)
Second, unique attributes for vintner selection, broadening the attendees exposure, no matter how experienced. (Chardonnay with skin contact. A great 50 case Pinot from Humboldt county, as two of many examples.)
Third, the attendees have been serious wine enthusiasts who ask questions, take notes, and taste, learn – not a drunk fest of baby birds with their glasses out.
Event Details For Vintners
Update: registered Vintners so far: Quivira, Ridge, Mounts, Sheldon, Wind Gap Wines, and El Dorado vintner Baiocchi Wines. Room for only two more!
The official Eventbrite registration is up and has already issued 25 of the 80 attendee spots, not too shabby considering it just went up at 8pm last night!
Details here: http://grenacheday.eventbrite.com/
This event is ABC licensed, and sponsored by the YWCA, to whom a portion of donations go to. Your 'table fee' is a bottle of wine of each poured, donated to me as the host, and a $20 donation, or a bottle to the YWCA, which they use for future events and fundraisers.
Your table is provided – you should bring a table cloth, dump bucket, 6-8 bottles (to be safe, average pour is 4-6 bottles), and your a certificate of insurance. (Standard new protocol now I am told.) Use of marketing colleteral, email sign ups, wine club and order forms is suggested.  Up to 2 persons from the winery may attend to pour. (And is encourage so can also walk around.)
Wine poured can be grenache, grenache rose', or a blend where grenache is the leading varietal. You may call my cell at 415 613 5731 or email me at simplehedonisms at gmail.com with questions. We will cap at 8-10 producers.
Whether you pour or not, if you are a grenache producer or a grenache lover – to take the time to celebrate this wonderful variety.
Cheers!
Related Articles
#PinotSmackdown Greenhouse Tasting Winners & Photos! (Grenache up next!)
Seeing California Chardonnay in a New Light: #Chardonnay Day Greenhouse Tasting, Attendees Top Picks. Up Next – Aug 18 Pinot Day
Wine Tasting Events Must Evolve – An Example at the Saturday June 11th Vinify Winery Collective Event in Santa Rosa