Join fellow Rhone Wine Lovers at the "Romancing the Rhones"

Grand Tasting




Do you love Rhone wines? Share in a deliciously Rhone experience on Saturday, July 14, At The Old Mint in San Francisco, Saturday, J
uly 14, 2012. Getting there is easy: it's close to BART and there's also a parking garage across the street!
Enjoy inspired, Rhone-friendly foods from local artisans. Sample amazing Rhone wines from California, Oregon and beyond. Learn something new about Rhone varietals.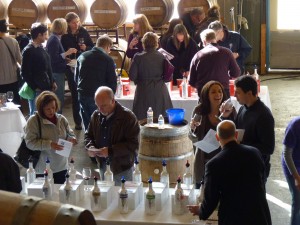 As a Rhone enthusiast, I am very excited about this new event. I don't normally discuss my own small wine brand, Two Shepherds on Simple Hedonisms as I believe in separation, but I will share that Two Shepherds is pouring its new 2011 releases which include the Grenache Blanc recently featured in the San Francisco Chronicle by Jon Bonné. I will also be pouring barrel samples of the very limited release 2011 Russian River Valley Grenache and Syrah at the VIP Barrel tasting portion.
Romancing the Rhones: Event Info & Options
Taste 100+ amazing Rhone wines from 40+ Rhone producers
Gourmet "Rhone Romance" Lunch with the Winemakers @ Chez Papa Resto in the Mint Plaza. Limited seating (Gold Bar Tickets, $85)
VIP Barrel Tasting (Gold Bar & Silver Dollar Tickets) – early start at 1230.
Blind Tasting of 40 top-scoring wines from Rhone Shootout.

Pit your palate against the experts and vote for your favorites!

Walk Around Grand Tasting in the Vaults – meet the Winemakers
Perfect Pairings – 8 succulent wine & 8 brilliant bites (optional: $20)
Awards Ceremony – vote for your favorites
Gold VIP lunch is at 1130.
Gold and Silver VIP start at 1230 with Barrel Tasting and regular wine.
The Grand Tasting is from 2-430
Enter to Win A Pair of Tickets (Ends Tuesday Evening July 10th)
To Enter To Win is Easy – simply tell us in comments below, from the list of participating wineries below:
Which is your favorite and why/which wine you like most
OR
Which Winery are you most eager to try
Please include your first and last name for ticket will call in your entry.
Good luck and see you Saturday, Bastille Day!
Participating wineries include:
Anaba Wines
Art Farm Wine
Aver Family
Bonny Doon Vineyard
Bourassa Vineyards
Canihan Family
Cass Winery
Cinnabar Winery
Cornerstone Cellars
Crooked Vine Winery
Derby Wine Estates
Dierberg Vineyard
Drytown Cellars
Eden Springs
Fenestra Winery
Field Stone Winery
Fortunati Vineyards
Gatt High order viagra Eden
Gatt Wines
Grizzly Peak Winery
Guglielmo Winery
Hahn Family Wines
Hearthstone Vineyard and Winery
Holly's Hill Vineyards
Hug Cellars
Jazz Cellars
Jessie's Grove Winery
Leucadia Red
Mangels Vineyards
Michael David Winery
Midsummer Cellars
Nottingham Cellars
Perrucci Family Vineyard
Poetic Cellars
R&B Cellars
R2 Wine Company
Rahn Estate
RoxyAnn Winery
Skylark Wine
South Coast Winery
Spangler Vineyards
Tallulah Wines
Tercero Wines
The Winery SF
Two Shepherds
VIE
19 Responses to "Romance the Rhones This Saturday July 14th at The Old Mint in San Francisco. (AND win a pair of tickets)"